For Business Owners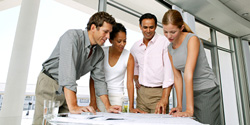 If you own a business, you know better than most that the world can be an extremely competitive place. That's why it's important to attract – and retain – the best talent possible for your company but also to provide for your future and your family.
We can assist you by proposing strategies that can help you accomplish this in the following areas:
Retirement Plan Services to maximize your personal savings and maintain a competitive employee base. Most "off the shelf" retirement programs are built around the turnkey provider's capabilities rather than your needs. As innovators, we think our clients deserve better and know "calling the shots" is why you went into business to begin with. Our process identifies your objectives, reviews options, and allows you to implement a plan customized to your specific requirements.
Executive Compensation Programs to recruit, reward, and retain the best people so critical for the success of your company. We can help you create an executive compensation plan consistent with the specific objectives of your company.
Business Succession and Exit Strategies to help ensure your equity and its "fair" value is properly transferred to your family, employees, co-owners or others whether the transfer is voluntary, like retirement, or involuntarily, such as premature death, divorce, or disability. Properly done, this can offer both the current and successor owner a worry free, tax efficient method of business succession.
Family Owned Business Succession Planning. We recognize that each family-owned business faces its own set of opportunities and challenges. We are able to assist you in deciding whether you should will, gift or sell your business interest to family members. We can help family-owned businesses make effective long and short-term ownership and leadership transitions.
Key Person Protection. Like most business owners, your business may be your most valuable–and yet your most vulnerable–asset. If you or one of your key employees is unable to continue working in the business, could the business continue to operate successfully? Could it still support your lifestyle? Would it continue to provide you with an income, even after you've retired? We can show you why the implementation of planning techniques and Key Person Life and/or Disability Income Insurance can potentially mean the difference between drawn-out chaos and a controlled transition of your business.

Employee Benefit Programs

. With years of experience in the closely held marketplace, we can help provide strategies that go well beyond the traditional group life, health, and disability insurance spread sheeting so common in the group business.
To learn more, browse our website or contact us to schedule a no-obligation private conversation. We look forward to speaking with you soon.